The packaging solutions for building glass
SHENZHEN JIMY GLASS CO.,LTD.
Original
2018-12-23 10:52:19
The packaging solutions for building glass
With the upcoming of 2019, the shipment of foreign trade also reaches the last small peak during this time, many companies are busy for deal with orders, and customers are also waiting for the delivery time, picking up the goods and then proceeding with the following works.
Although sometimes the whole process of production is smooth, but often in the loading of containers or transportation, or even when taking delivery of goods, there are a variety of circumstances, resulting in the entire trade process can not be completed, or even appear customer complaints or dispute problems.

For a building glass group which more than 20 years experiences, we took every step perfectly, we strictly for production line, constantly for staff training, regarding the packing and shipping, this is the last step we put the delivery of the goods to our customers, so it is very important things for our group.

In building glass industry, glass can be divided into float glass and processed glass, they are from production to packaging and transportation, further to the whole process is different, so we have to solve problem case by case. This time, we will make a simple analysis and give any solutions on glass packaging.

Regarding float glass, because the size is made according to the size of regular glass and bulk shipment, the packaging is consistent. In the process of transportation, the container can often be full loading, and sometimes customers who purchase such glass have special unloading tools, so the whole process is not complicated and very smooth. However, it should be noted that the quantity of each crate of glass cannot be changed, and different glasses LCL need to care whether they can be loaded. All these measures should execute strictly for the safe transportation then reach to our customers smoothly.

5mm clear float glass packaging photo: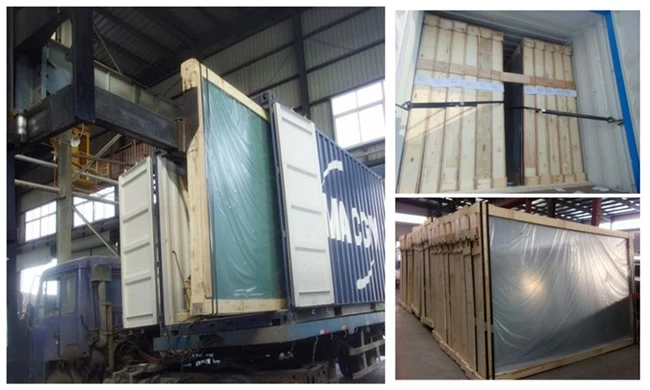 High level packaging for processed glass, different to float glass, most of processed glass is customized by customers, therefore, we need to pay more attention to the process of production, packaging and transportation.

55.3, 11.14 ultra clear laminated tempered glass as example:

We need to consider when in the packaging process, add white paper between each of the glass, or use small wood pad to ensure the whole packaging process go smoothly, so that will not scratch the glass, or a knock against, because it is toughened glass, we should consider its self-explosive rate, use small angle bead preventing the broken when meet great shake.

And other processed glass type like 8+8mm safety curved tempered laminated glass, patterned silk screen printed tempered glass, etc, also use this method to protect the glass from broken.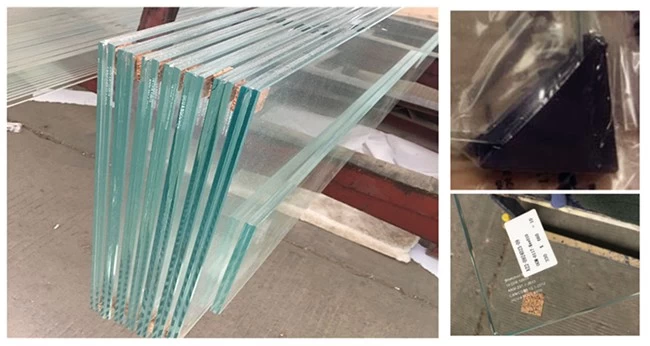 When loading, it is also necessary to avoid touching the top, or the knock caused by less quantity, which damages the quality of the glass. Therefore, it is necessary to reasonably arrange the quantity for loading, and consider whether the customer can unload the goods.

In conclusion, the packaging is very important for building glass, and it's also the last step before cargoes deliver to customer, so we should take care for this step.