How to realize glass hot bending, cold bending or lamination bending?
SHENZHEN JIMY GLASS CO.,LTD.
Original
2020-12-11 10:59:52
Curved glass widely use in many building projects, but why there have different kind of curved glass? Hot bend glass, hot bend tempered glass, cold bend glass, lamination bending glass.
Hot bend glass:

Depends on builder's requirement, glass will fabricate to different kind of shapes, widely use interior building, or some projects need a special shapes, such as furniture, decorative building, shower room, showcase, aquarium, etc.

Hot bend glass which produced by heating the high quality flat float glass to the softening degree, then through computer control to realize automatic radian changing and adjusting the radian, normally, period of fabrication will be 10-20 hours, this time if many shapes requirement, need adjust the models, and realize what the builder want.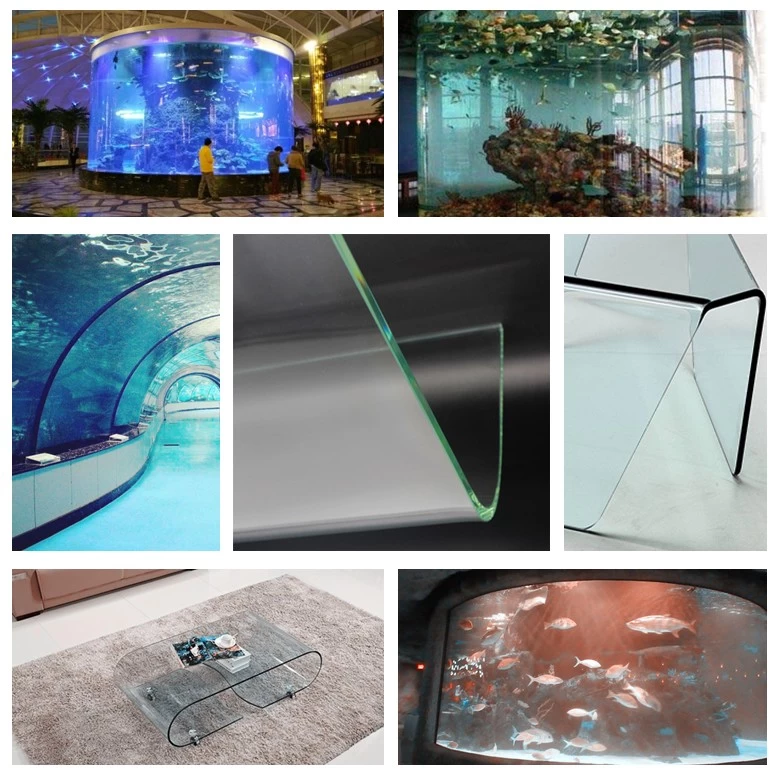 Hot bend tempered glass/curved tempered glass:

Some buildings need very high safety performance, when place in some high-rise location, for exterior wall use, or for windows, skylight, will require glass be tempered or heat strengthened process, make sure good appearance, and also in very high safety, both of us know tempered glass is safety glass.

The tempered curved glass is produced through the mold shaping by computer control and then quick cooling, make sure glass can cooling soon, which strength will be 3-5 times than hot bend glass, it's a very good choice and widely use in many modern projects, it possesses characteristic of both hot bent glass and tempered glass. JIMY GLASS group hot bend tempered glass production line maximum size for normal machine can reach 2440*5500mm, and some oversize(maximum can reach 3300*13000mm) or small radius requirement(less than 450mm), can adjust the machine to test and evaluation.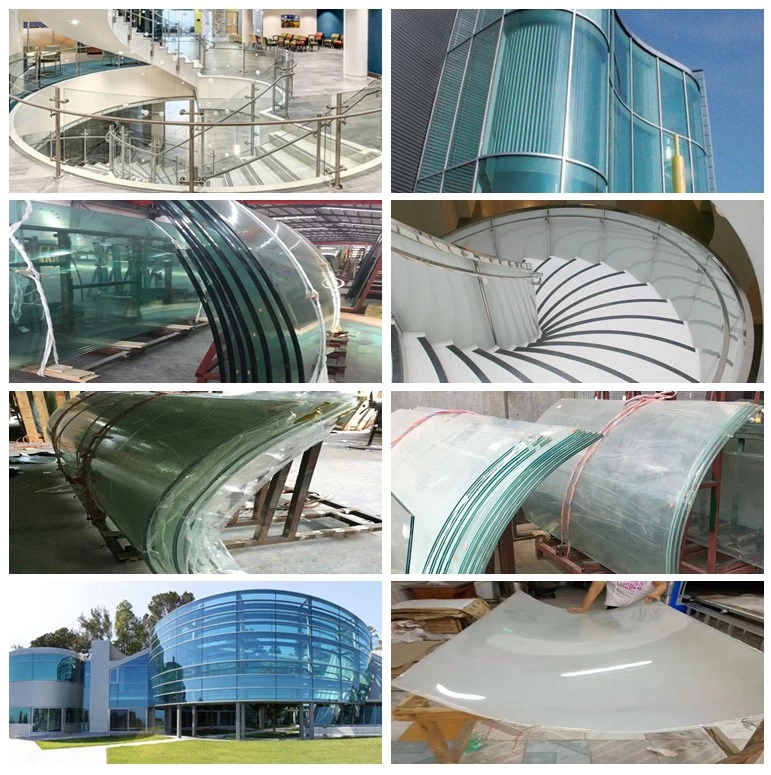 Cold bend glass:

Cold bend glass also called Physical bend glass, it's seems a new word for curved glass, this kind of glass will fabricated after hot bend tempered glass, use machine to change the radian, and suggest to sealed the exterior frame soon, for radius limit, glass often will come to flat if no frame, currently, only can fabricate by a very large radius, because it's very easy have a break risk, so this kind of curved glass shape will close to flat glass, such kind of glass widely use in some windows, skylight, or roofs, it's also a amazing effect after installation. JIMY GLASS group announced in past years, can realized cold bend glass process, and welcome you to talk with us more information.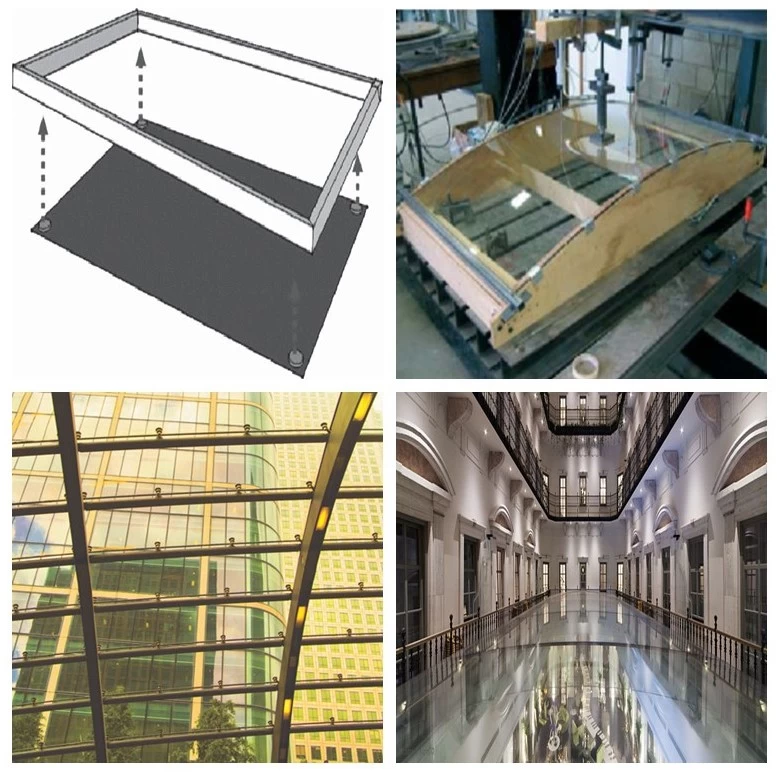 The another one is lamination bending, is a process that somewhat combines cold and hot bending, as well as lamination. For bent laminated glass, the most common work-flow is to first bend the glass sandwich - with the desired number of glass sheets in the interlayer - and then proceed with the autoclave process.


Thanks to the autoclave process, it's possible to join two pieces of glass together with an interlayer. The required processing temperature inside the autoclave is around 120-140 degree; the pressure is about 12 bars. Bending is carried out with a mechanical fixture before the autoclave process, and the original bending radius needs to be smaller than the target shape. Since the glass is laminated, it fulfills safety glass requirements. One of the benefits of using this process includes the possibility of making very flexible shapes. Still this is very time-consuming, which makes it more expensive.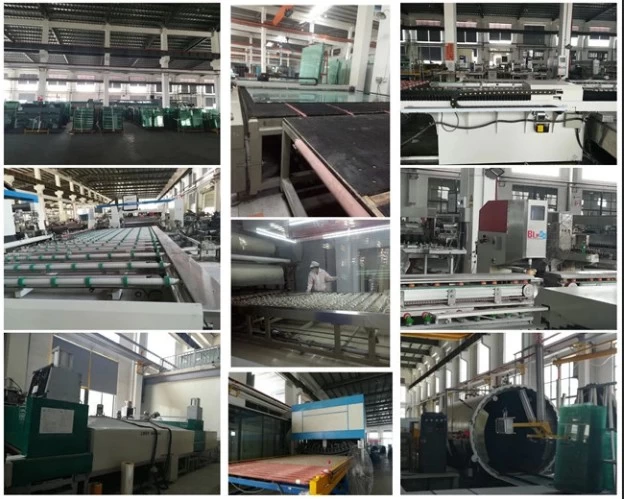 No matter what kind of curved glass, finally it's all about achieving builder's requirement, we shall evaluate the budget, detailed requirement, and realize the effect what we want, JIMY GLASS group act as a one-stop service solution provider, the most advantage is help our client to solve the problem, analyze the risks, and new problems, help our client can complete their projects smoothly.

About the author:

JIMY GLASS owned large area for all kind of glass production, six major production bases, produce all kind of building glass, curved glass product is one of our important product, with curved machine we have more than ten sets, professional person help you to make a good plan, solve the technical problems, make sure you will satisfy with your different kind of projects requirement, if you have interest, please do not hesitate to contact us anytime.