Browse Categories
Subscribe

Get email updates on new products
China 2-19mm Temperable Quality Clear Float Glass Manufacturer
Brief Introduction
Clear Float glass is the core base product for most of common glass products, it is derived from the manufacturing process where molten glass is poured from the furnace and floated evenly onto a bed of molten tin. The glass is gently cooled under controlled conditions to anneal the glass which enables the glass to be cut and modified.
Characteristic
• Optical clarity with high light transmission
• Smooth and distortion free flat surface
• Easily fabricated like cut, tempered, laminated, etched, etc.
• Flexible specification to reduce slice loss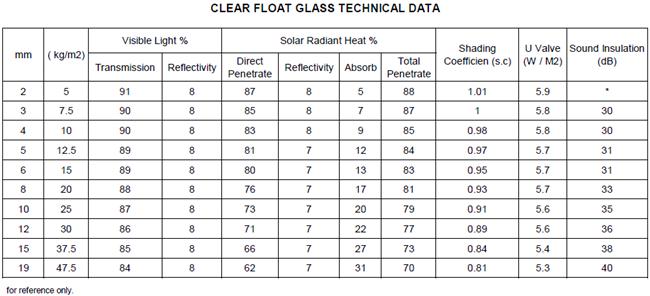 Specification
Thickness: 2mm 3mm 4mm 5mm 6mm 8mm 10mm 12mm 15mm 19mm
Size: 1650x2140mm, 1650x2200mm, 1220x1830mm, 1830x2440mm, 1830x2600mm, 2600x3660mm, 2140x3300mm, 2140x3660mm, 2250x3300mm, 2250x3660mm, 2440x3300mm, 2440x3660mm, max size could reach to 3000*12000mm, any other size can be produced as per customer's requirement.
Application
Construction, mirror plate, furniture, optical instrument, etc.
Quality Standard
In accordance with GB11614; BS EN572-2 European standard; ASTM C 1036 USA standard