Browse Categories
Subscribe

Get email updates on new products
China High Transparency Extra Clear Low Iron Float Glass Manufacturer
Brief Introduction
Low Iron Float Glass, also name Ultra Clear Float Glass / Extra Clear Glass / Starphire glass / Optiwhite glass, it is manufactured in the same manner as ordinary float glass with a large percentage (approximately 90%) of the iron content removed. This process lessens the inherent green tinge evident in normal standard float glass. This difference can predominately be seen when viewing the glass on its edge, when many panels are stacked together or when coated on one side in light colors.
Characteristic
• Super high transparency and a neutral color making it the ideal glass where high visibility and clarity are required.
• Displays exactly the color you desired when Colored or painted -regardless of panel thickness, and with no distortion or green tint.
• Perfect for tempering, laminating, screen printing, acid etching, heat treatment and decorating with ceramic colors.
• Suitable for most of glass applications and is favored by architects, initiators, developers and consumers.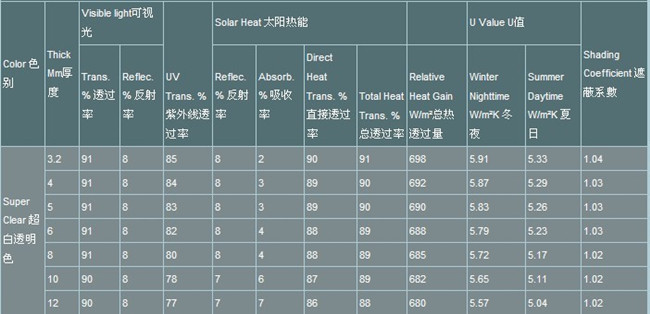 Specification
Thickness: 3mm 3.2mm 4mm 5mm 6mm 8mm 10mm 12mm 15mm 19mm
Size: 1650x2140mm, 1650x2200mm, 1220x1830mm, 1830x2440mm, 1830x2600mm, 2600x3660mm, 2140x3300mm, 2140x3660mm, 2250x3300mm, 2250x3660mm, 2440x3300mm, 2440x3660mm, max size could reach to 3000*12000mm, any other size can be produced as per customer's requirement.
Application
• Entrances, storefronts, lobbies and reception areas
• Balustrades, balconies, patios, barriers, stair railing, skylight, canopy, roof, floor and walkways
• Zoo enclosures, fish tanks, jewelry display cases and museum cases
• Shelves, tabletops, back splashes, dividing walls, office partitions, bathroom enclosures
• Solar panels and greenhouse