Browse Categories
Subscribe

Get email updates on new products
Manufacture safety triple tempered laminated glass 6+6+6mm, 8+8+8mm, 10+10+10mm, 12+12+12mm
Triple tempered laminated glass, also call three layers toughened laminated glass
High security, and create aesthetic sense to building
Size: Max 3000*8000mm, Mini 300*300mm, any customized measurements
Popular glass thickness: 6+6+6mm, 8+8+8mm, 10+10+10mm, 12+12+12mm, etc.
Use as glass floor, glass staircase, glass bank door
Production time within 15 days after order is confirmed
China Safety Triple Tempered Laminated Glass Manufacturer
About Triple Tempered Laminated Glass
Triple Tempered Laminated Glass, also call three layers toughened laminated glass, is made up of three layers of tempered glass permanently bonded together with PVB or SGP interlayer via a controlled, highly pressurized and industrial heating process.
Characteristic of Triple Tempered Laminated Glass
• High Security. When the triple laminated glass is attacked by outside force, it is hard to be penetrated, because, in one hand, the tempered glass is five times stronger than normal glass, and the other hand, the interlayer film has strong tenacity and can absorb and weaken a mass of striking energy. And even the glass is broken, the splinters will stick to the interlayer and not scatter.
• Create aesthetic sense to building. Compare with the traditional building materials, use glass to build the architecture, will make the building more attractive, and harmonize the appearances with surrounding views, which exactly meet the demand of architects.
Types of Triple Tempered Laminated Glass
Jimy Glass produce different types of three layers toughened laminated glass, such as triple transparent tempered laminated glass, triple sandblasted hardened laminated glass, triple screen printing low iron toughened laminated glass, etc.
Specification of Triple Tempered Laminated Glass
Original glass color: normal clear, ultra clear
Size: Max 3000*8000mm, Mini 300*300mm, any customized measurements
Popular glass thickness: 6+6+6mm, 8+8+8mm, 10+10+10mm, 12+12+12mm, etc.
Popular interlayer thickness: 1.14mm 1.52mm PVB, 1.52mm 2.28mm SGP (Dupond Sentry Glass Plus)
Application of Triple Tempered Laminated Glass
The triple laminated glass is extremely strong and high safety, so it is widely used on the place where require safe protection, such as glass floor, glass staircase, glass bank door, glass prison wall, glass jewelry store wall, etc.
Safety three layer Laminated Glass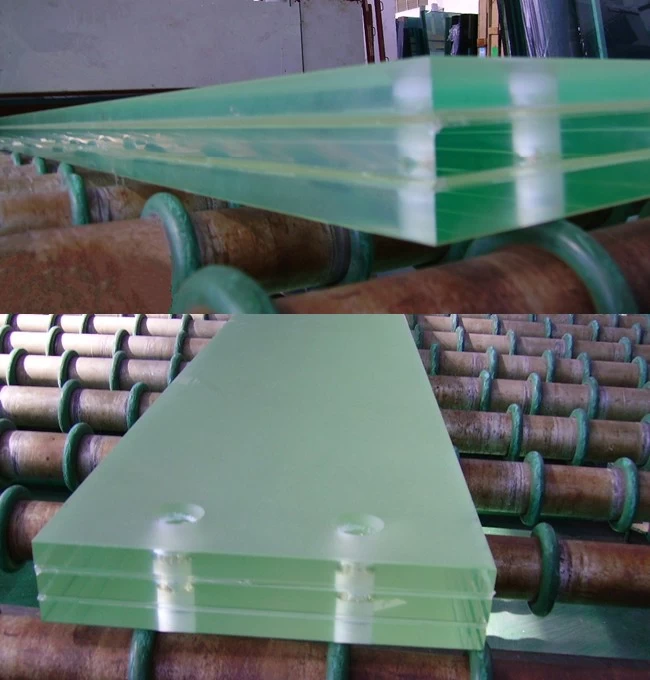 Laminated Glass Production Line

Safety Glass Packing and Loading

SHENZHEN JIMY GLASS CO., LTD.
Tel:0086 13662630556
Contact Person:Eileen
PDF Show:PDF

Other Products